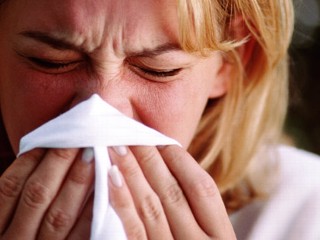 During spring and summer, allergies are generally induced by wind-born tree, grass, or weed pollen, and can cause such symptoms as: sneezing; nasal congestion; runny nose; watery, itchy, or red eyes; headaches; fatigue; and sometimes coughing and wheezing. When allergens and antibodies react in individuals with allergic rhinitis, their nasal mucosa becomes swollen and may obstruct drainage from the sinuses causing sinusitis in many people. Thus, sinus infections are a frequent complication and consequence of allergic rhinitis.
How do allergic reactions occur?
Allergic rhinitis, or hay fever, is an example of misplaced immunity. It is a learned response by the immune system wherein rapid physiological changes resulting in itchy eyes and throat, sinus congestion and sneezing, asthma, and even diarrhea are produced. Typically, exposure to an allergen such as tree pollen elicits a massive release of IgE antibodies which attach to white blood cells known as mast cells. These cells are mostly located in the lungs and upper respiratory tract, the lining of the stomach and the skin. When these cells are stimulated, they release a number of chemicals including histamine which produce the allergic symptoms.
Dietary recommendations
Eliminate from your diet the foods that most likely cause your allergies: cow's milk and all dairy products, wheat, rye, oats, chocolate, corn, oranges, eggs, and artificial food coloring, sugar, caffeine, refined or simple carbohydrates, and alcohol. Eat a healthy diet is generally rich in organic fruits and vegetables, whole grains, legumes, and fiber. Good sources of protein are nuts, seeds, fish, turkey and chicken, and soybean products.
Allergies and Traditional Chinese Medicine
Traditional Chinese Medicine often views allergic rhinitis as related to Wind noting that symptoms come and go rapidly, cause congestion, and make the person want to avoid windy situations. This Wind often coexists with a deficiency of the Protective or Wei Qi. The nearest thing we associate with the Wei Qi in the west is resistance to colds and other respiratory infections. People with Wei Qi deficiency catch colds easily, and allergy symptoms may be particularly bad in the spring or fall, seasons which are generally windy.
How do acupuncturists treat allergies?
The acupuncturist looks for constitutional or more deeply-rooted signs in each person with allergies. The principle here is treating the whole person. Often people with chronic allergies show signs of Spleen or Kidney Deficiency as well as Lung signs according to TCM. The goal of the acupuncturist is to develop a plan which addresses the person's acute symptoms and provides relief, while addressing the underlying immune system imbalance which is thought to be at the root of the person's allergies. Treatments often include dietary modification, the use of specifically chosen herbal formulas, and acupuncture.